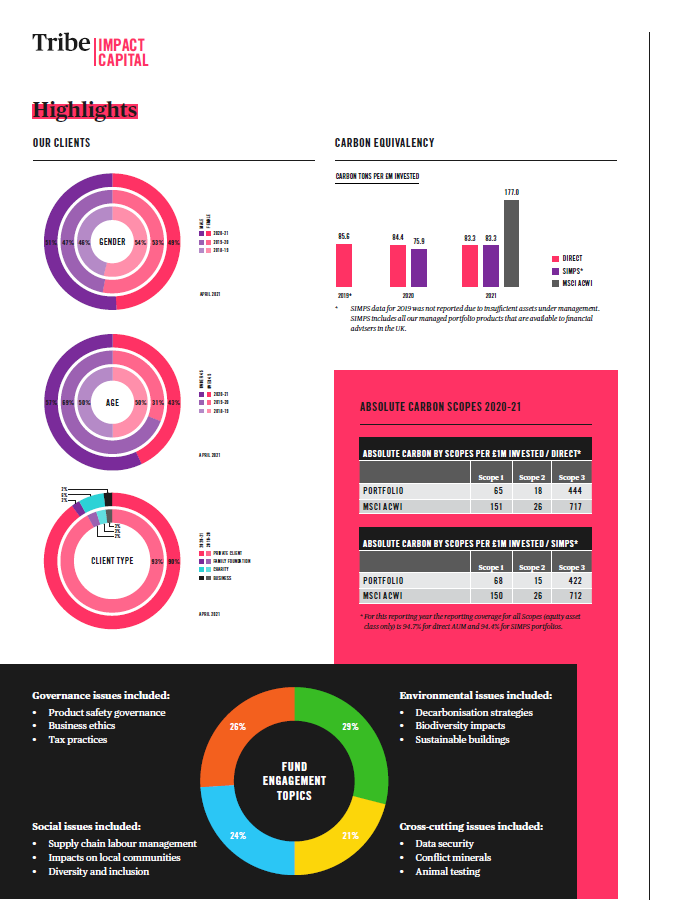 We're delighted to present our third Sustainable Development Goal (SDG) Performance Report. This reporting year 1 has been one of the most extraordinary years in human history. The Covid-19 pandemic effectively brought the world to a standstill in March 2020, and since then, has imposed lockdowns in most countries around the world. As vaccines have been rolled out, the world is slowly re-emerging; but things are not how they were before. The pandemic has laid bare the frailties of communities and societies around the world, highlighting health and economic inequalities and inequities. The past 18 months have hopefully taught us vital lessons and, in some areas, led to what we hope will be the start of a completely new way of doing business and finance.
The extraordinary growth of Environmental Social and Governance (ESG) investing over the last 18 months certainly points to a sizeable shift in the investment psychology in the markets. It's clear to us that ESG alone won't get us to where we need to get to – the delivery of the
UN Sustainable Development Goals (UN SDGs)
The Sustainable Development Goals (SDGs), also known as the Global Goals, were adopted by the United Nations in 2015 as a universal call to action to end poverty, protect the planet, and ensure that by 2030 all people enjoy peace and prosperity. There are 17 goals.

. However, as a bellwether for market sentiment there is no denying its message. The investment paradigm has started to shift from a largely shareholder driven one to a stakeholder aligned one.

The last 18 months have also witnessed an acceleration in the speed and scale of the ecosystem changes we are witnessing, particularly evident with the climate. The Australian "Black Summer" bushfires in 2019-2020 2 , the record-breaking fires in North America 3 and the most powerful landed super typhoon Goni (Rolly) in the Philippines 4 with measured winds of 195mph are just some events that remind us of the severity of the
Climate crisis
The catastrophic and fast accelerating nature of global warming currently being experienced.

we continue to face. This, we believe, has added to the market response towards ESG and impact investing. While 2016 was a pivotal year for impact investing with the adoption of the UN SDGs (and the Paris Climate Agreement the year before), it feels like 2020 was the year global finance really started to embrace impact. Time will tell the scale and depth of this transition, but we close this reporting year feeling optimistic about the positive changes we're witnessing.

We recently submitted our B Corporation (B Corp) recertification assessment 5 and we await the outcomes of that. We're also working to develop our Science Based Target (SBT) 6 after the methodology for the finance sector was released in November 2020. We enjoyed beta testing the tools that the SBT team developed before the launch of the methodology. We also put forward our annual Principles for Responsible Investing (PRI) 7 submission which outlines our approach to sustainable and impact investing across all of our assets. The latter part of this reporting year saw us change
Custodian
A financial institution which securely holds securities and investments.

and we've been working with them to increase the breadth and depth of our
Active ownership
The process through which investors engage with companies and exercise their voting rights. Good active ownership requires research, prioritisation, setting objectives, tracking results, integration with investment decision making, persistence, consistency and listening skills.

and engagement needs.

We're thrilled to report that our assets under management between May 2020 and April 2021 again more than doubled. All our assets remain 100% managed for social and environmental impact. The style and metrics included in this report remain consistent with our previous reports to enable comparison and tracking of our performance. We will however, move away from this format in our next report for our investments section. This is because our commitment to agree and deploy our approved SBT across our business will shift the way we report our Paris Climate Agreement alignment. Next year we'll also present for the first time our active ownership and voting records enabled by our change of custodian. There's a lot of change happening in impact and investment performance reporting, and we constantly strive to incorporate developments into our reporting and disclosures.

During this reporting year we committed to becoming a Future Fit Pioneer 8 and will report on our progress later this year. The
Future-Fit Business Benchmark
A self-assessment a business can align themselves to, to ensure they're managing and improving their social and environmental performance for the future by shifting their business to 'positive pursuits'.

includes 23 "Break-Even Goals" and a complementary set of indicators for businesses to use to assess alignment with the UN SDGs. It also defines 24 "Positive Pursuits" which are activities a business with purpose can pursue to create a regenerative impact on people and planet. We believe it's important to keep the Future Fit Pioneer Report separate for now to allow it to be comparable with other Pioneer Reports. In time, it may become part of this report.

Since Tribe started in summer 2016, we've taken our pledge to being transparent seriously. We've committed, mainly through our B Corp submissions, and our annual UN Principles for
Responsible Investing
Working within the main asset classes and securities, responsible investing covers a range of activities from exclusion/negative screening, through themes (cleantech, water, etc.), corporate engagement, to positive screening.

(PRI) returns, to ensure anyone can find information about what we do and how we do it. We hope our SDG Performance Report provides clarity on what we've managed to achieve and importantly, what's left for us to do. We don't pretend to have all the answers, nor do we present what we do as the solution, but rather as part of a suite of solutions. We hope that by sharing what we've achieved and what we've learned will inspire others to do the same. Only together will we create the change that's needed.