Financial returns aren't just a means, they can be an end too
As an adviser you will have a range of clients with a variety of investment needs and objectives. Our Sustainable Impact Model Portfolio Service (SIMPS) offers an authentic, impact focused portfolio service for those clients who are seeking an investment model which does well and does good. Our portfolios go beyond traditional "ethical" investments, where companies and industries that are deemed to be "unethical" are negatively screened out. We actively select positive investments that directly contribute to global sustainable development and address a social, economic or environmental issue society is facing. We believe return and impact can sit comfortably alongside each other and further support the causes your clients care about.
We work with you to provide your clients with an impact focused discretionary fund management service via our Sustainable Impact Model Portfolio Service (SIMPS). The portfolios aim to achieve capital appreciation whilst reducing investment risk by diversifying across asset classes and geographies.
Our strategy is based on actively managed asset allocations across equities, fixed income and cash.
We invest in fund managers who are aligned with our impact philosophy seeking businesses that avoid controversies, are well run and solving global challenges such as environmental degradation, healthcare, education, financial inclusion to name a few.
Watch our monthly impact insights where we look at what drove SIMPS performance last month and delve into the adviser question of the month.
If you have a question you would like answered, please email it to advisers@tribeimpactcapital.com.
Factsheets
(for use by advisers and clients of advisers)
In April 2020 Tribe changed investment reporting platform. During the migration the VAT applicable on Tribe's annual management charge was not included as a cost when calculating the performance returns. We want to show investment returns after all costs, so this meant that performance was over-stated by approximately 5 basis points per year. This affected factsheets that were produced from April 2020 to October 2021. We have removed these factsheets and corrected them. From 28 February 2022, VAT is no longer applicable so all performance is now showing net of Tribe's fee and does not include VAT. If you've got any questions, or would like to understand the impact across different time periods, please do get in touch with the us directly at advisers@tribeimpactcapital.com.
Want to learn more about impact investing?
We have answered the most popular questions asked to us by advisers about impact investing and our SIMPS portfolios. Our video series will provide you with one hour of Continuing Professional Development (CPD).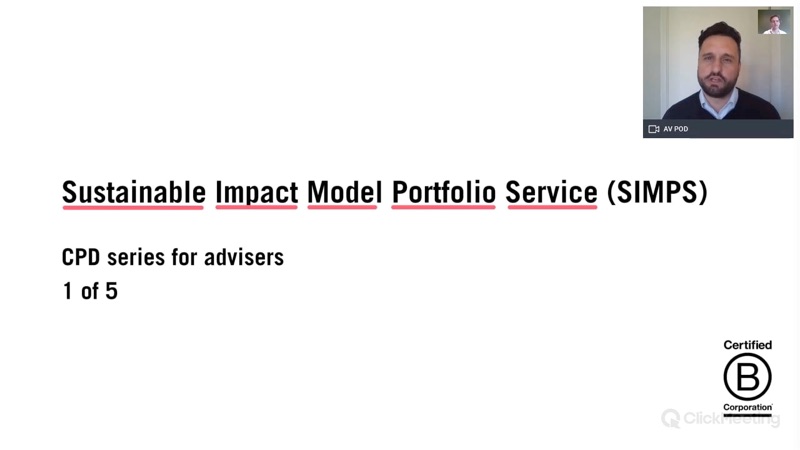 SIMPS key facts
Models available in six risk levels
No minimum investment
Liquid portfolio of daily traded funds
All funds are selected by us based on their positive social and environmental benefits
Quarterly rebalancing
Dynamic Planner risk-mapped
Available on FE Analytics
Suitable for ISAs, personal pensions and other investments
Annual Management Fee 0.25% plus VAT
Get in touch
Find out more about our Sustainable Impact Model Portfolios.