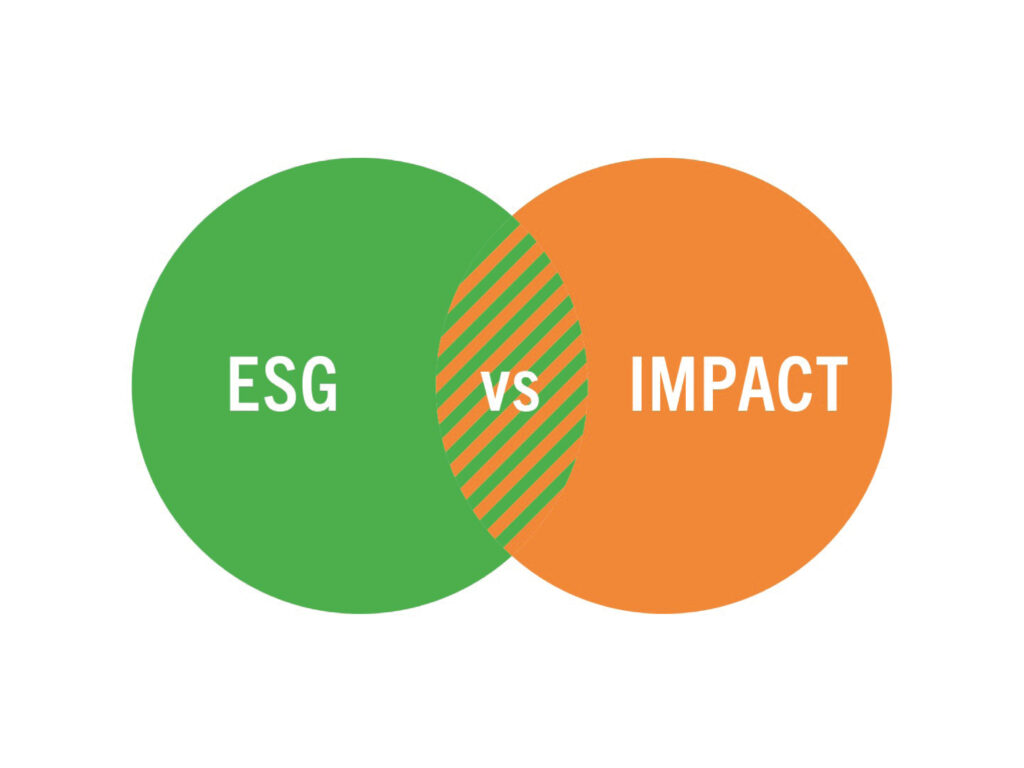 The strength of impact investment strategies lies in the clarity of the goal: to invest in well-run businesses seeking to solve global problems. Many Environmental, Social and Governance (ESG) investment strategies position themselves as having the same ambition. Whilst ESG provides a helpful framework to begin the assessment of risks, it also presents significant limitations which impact investment strategies seek to solve.
Like impact strategies, ESG strategies have an innate insight at their core. They favour management teams which are thinking beyond the next quarter's earnings and considering the possible operational risks that could arise from their business' position and interaction with the wider world. In a purely monetarist, free-market system, ESG considerations would have limited appeal, governments would be unlikely to hold businesses to account for their poor polluting, working or management practices and so investors would be unlikely to take notice.
Since no company operates in such a theoretical vacuum, ESG has become a powerful framework for businesses to consider their operational risks using a shared language, which has been developed with investors. This provides shareholders with a more detailed gauge of the business' awareness and treatment of certain risks.
A reliance on ESG data in isolation, however, has significant limitations. The biggest "risk" being assertions of "sustainability", "responsibility" or "impact" obtained from a single, publicly available ESG data source. Even Investopedia makes the mistake of assuming that funds with high ESG scores are automatically impact funds. They aren't.
Genuine sustainability, a fundamental basis of impact investing, involves engagement. Detailed engagement with a business' products and services, along with its history. Data needs to be acquired from multiple sources and range of specialists. An impact strategy can't be passive, it requires active and considered management along with a detailed understanding of an industry in order to understand the potential challenges.  
We've seen examples of businesses that would never be recognised as responsible or sustainable – due to certain business practices which would be identified and flagged in the impact due diligence process – appearing in active and passively managed funds under an ESG banner. This has occurred across industries, from the financial sector – a bank getting exemplary scores for governance but investing billions of dollars into Tar Sands exploration businesses for example, to within the retail clothing sector, where large gaps in data and scrutiny on both the environmental and social impact of production were overlooked.
From this, problems arise in both hoped-for impact and financial returns. This misrepresentation is misleading and opens investors up to the exact risks they were seeking to protect themselves against with a sustainable investment strategy. It's, therefore, important false comfort isn't taken in ESG data's "protective blanket" and a business' strategy is interrogated in a more holistic manner.
Whilst the goal is clear, the data isn't always. As impact investors, we're searching for businesses whose products and services are working towards positive change, and at Tribe we use the UN SDGs as our framework to help us towards that goal. Unlike ESG, impact isn't silent on what a company does. Without a solid understanding of intentionality (Tribe's AMI framework), there's no measure that a business will maintain its commitment of working with this mission in mind.
Important Information: Tribe Impact Capital LLP is authorised and regulated by the Financial Conduct Authority ("FCA"). Our FCA registration details are set out in the FCA Register under Firm Reference number 756411 (www.fca.org.uk). Tribe Impact Capital LLP is registered in England and Wales (registered number OC411984) and our registered office is 73 Cornhill, London EC3V 3QQ. This document does not provide you with enough information to make an informed investment decision. Neither does it constitute advice or a personal recommendation or take into account the particular investment objectives, financial situations or needs of individual clients. If you are not an existing client of Tribe Impact Capital LLP, this document is considered to be marketing material. Whilst this document may contain information about specific companies it is not an investment research report as defined by the FCA. This document is not intended and should not be construed as an offer, solicitation or recommendation to buy or sell any investments. You are recommended to seek advice concerning suitability of any intended investment decision from your investment adviser. Past performance is not a reliable indicator of future performance; and the value of investments, as well as the income from them can go down as well as up. Investors may get back less than the original amount invested. Any type of impact investment will involve risk to investors capital and the expected environmental or social return may not be achieved. The information and opinions expressed herein are based on current public information we believe to be reliable; but we do not represent that they are accurate or complete, and they should not be relied upon as such. Any information herein is given in good faith but is subject to change without notice. No liability is accepted whatsoever by Tribe Impact Capital LLP or its employees and associated companies for any direct or consequential loss arising from this document. This document is not for distribution outside the European Economic Area.