We believe in getting value from values
Our approach to wealth management is for those who truly seek to achieve a greater level of impact with their wealth. We believe in a bespoke approach, one that equally considers your financial objectives and personal values, delivering good investments with positive impact.
The United Nations Sustainable Development Goals (UN SDGs) guide our investments and allow you to identify what impact you wish to have on the world. To facilitate this we have created four Tribe Themes which we can attribute to every investment.
Find more on the SDGs in our impact phrasebook.
Environment & Ecology
Environment & Ecology focuses on the boundaries that Nature sets; the ecological ceiling or planetary boundary.
Ensure sustainable consumption and production patterns
Take urgent action to combat climate change and its impacts
Conserve and sustainably use the oceans, seas and marine resources for sustainable development
Protect, restore and promote sustainable use of terrestrial ecosystems, sustainably manage forests, combat diversification, and halt and reverse land degradation and halt biodiversity loss
Education & Equality
Education and Equality focuses on the social fabric needed to ensure everyone thrives; the social foundation.
End poverty in all its forms everywhere
End hunger, achieve food security and improved nutrition and promote sustainable agriculture
Ensure healthy lives and promote well-being for all at all ages
Ensure inclusive and equitable quality education and promote lifelong learning opportunities for all
Achieve gender equality and empower all women and girls
Reduce inequality within and among countries
Enterprise & Infrastructure
Enterprise and Infrastructure focuses on the economic and physical infrastructure needed to deliver Theme 2 whilst respecting Theme 1; the fabric for delivery of the goals.
Ensure availability and sustainable management of water and sanitation for all
Ensure access to affordable, reliable, sustainable and modern energy for all
Promote sustained, inclusive and sustainable economic growth, full and productive employment and decent work for all
Build resilient infrastructure, promote inclusive and sustainable industrialization and foster innovation
Make cities and human settlements, inclusive, safe, resilient and sustainable
Governance & Partnerships
Theme 4 focuses on the political, cultural and legal systems and behaviours needed to drive the change required; the behavioural shift needed to succeed.
Promote peaceful and inclusive societies for sustainable development, provide access to justice for all and build effective, accountable and inclusive institutions at all levels
Strengthen the means of implementation and revitalize the global partnership for sustainable development
The building blocks of your portfolio
tab5
tab6
Tribe Portfolio
Click the blocks to find out more.
Value from Values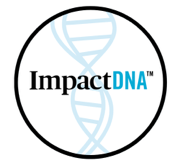 Our investment approach starts with you. We believe your values can drive value. For too long, many have believed that focussing on impact means sacrificing investment returns.
As a result, traditional investment portfolios have been managed independent of impact, with those seeking it donating income separately to philanthropic causes. There is, however, another way. Where return and impact sit comfortably alongside each other in your portfolio, and further support the causes you may already be supporting philanthropically. You can read more about how sustainable investing enhances returns in our evidence paper.
You may already have a defined set of values or you may want help defining them via our ImpactDNA™ process. We can work with you to identify and capture them, using the United Nations Sustainable Development Goals (UN SDGs) as the impact lens, to create, your ImpactDNA™.
This marker is unique to you and helps us craft an approach to your wealth management that reflects what you care about and embraces investment approaches that help deliver the change you want to see. Combining your impact objectives with your financial objectives, risk tolerances and investment preferences helps us to understand the types of impact you find most appealing and provides us with a richer portrait of your underlying wealth motivations and preferences.
Identifying Investments
Every selection, recommendation and investment decision we take is done through two lenses: Our investment analysis lens and our impact analysis lens. We focus on addressing social and environmental impact and generating financial returns – investment that does well and does good.
We go beyond the traditional approach of "ethical" investments, where managers negatively screen out companies and industries that are deemed to be "unethical". We want to invest in well run companies who are driving long term sustainable economic growth, in line with broader macro themes. We see value in actively selecting positive investments that directly contribute to global sustainable development and address a social, economic or environmental issue society is facing.
Our investment philosophy is simple: we look for high quality, sustainable businesses that are solving global challenges. We believe that this has three key advantages: Firstly, sustainable businesses tend to be more efficiently run as they are more aware of their resources. Secondly, sustainable businesses are less likely to be affected by adverse regulation (for example oil) or customer apathy (for example cigarettes). And thirdly, we all need greener energy and better healthcare so it is likely that businesses that address these issues will outperform over the long term, buoyed by policy changes and changing global appetites.
When constructing portfolios, we diversify across regions and asset classes ensuring investment fundamentals are considered alongside impact rationale. We then build portfolios aligned to your impact values and risk profiles.
Identifying Impact
We go beyond negative screening and ESG assessment to look at the true impact of each investment within a portfolio. We do this using our own unique approach, the AMI framework, which allows us to assess the level of impact of an investment.
In analysing impact, our focus is not just on how well managed the business is, but importantly on the outcome of its products and services. We look at the Additionality, Materiality and Intentionality of each product or solution alongside traditional measures of organisational effectiveness. This gives us a unique view of a business's impact.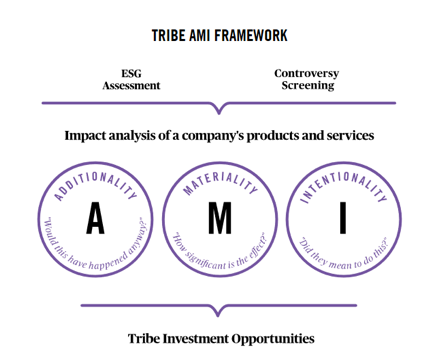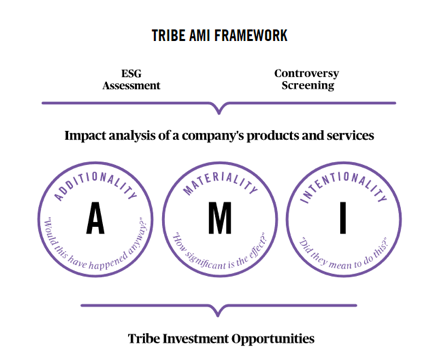 Your Tribe Portfolio
We believe in deeply engaging with your personal values so that your wealth becomes an extension of who you are. Through our impact assessment and reporting, you can track the performance of your Tribe portfolio. It's here that you will see not just your financial progress, but also the positive and sustainable impact that your wealth is having on the world around you. Each update is another chapter in your story.