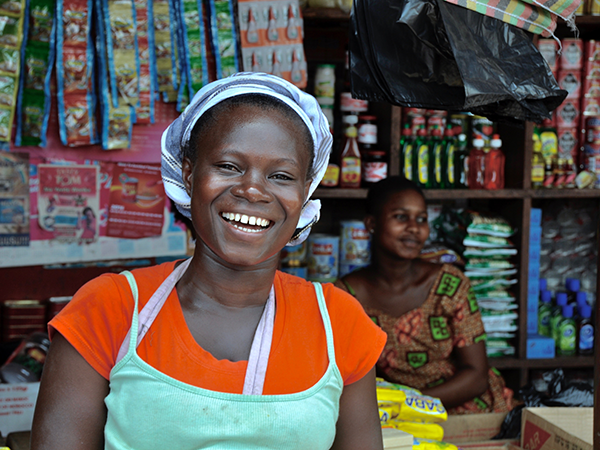 There's an investment lens that's crucial for preparing our societies for climate-related changes and building the types of businesses we need to deliver the Paris Agreement and Glasgow Climate Pact. It's not rooted in one asset class or one industry. It's a multi-asset class lens, spanning industries, geographies, investment styles and ownership types. And it's easy to access. Gender.
Investing in women and girls' empowerment can often be overlooked in favour of seemingly more urgent or impactful climate investing. However, investing in women can be a profound driver of change for the environment, society and the economy.
Project Drawdown[1] cites three strategic priorities to tackle the accelerating climate crisis:
Reducing sources – bringing emissions to zero
Supporting sinks – uplifting nature's carbon cycle
Improving society – fostering equality for all
Investing in women and girls' empowerment, which they define as educational access and family planning, is one of the top five interventions to tackle this crisis. It's second only to reducing food waste, which is cited as the most additional solution to delivering a 2 degrees rise in temperature. Reducing food waste could deliver 90.7 gigatonnes of saving compared to women and girls' empowerment delivering 85.42 gigatonnes2. At 1.5 degrees, investing in women and girls' empowerment comes fifth after onshore wind, utility scale solar PV, plant-based diets, and reduction in food waste.
Data like this should encourage investors to take a closer look at gender within their portfolios and the role it can play in de-risking markets by mitigating the worst impacts of a warming climate. Factor in the cost of displacement and that 80 per cent of those currently displaced by climate-related disasters and changes worldwide are women and girls[2] and it's hard to ignore.
The majority of women who are displaced live in developing economies. They often have a deep-seated knowledge of the natural capital that surrounds them. By collecting water, tending livestock, foraging for food, and collecting firewood, their knowledge of natural capital, how to best steward it, and the changes that are occurring are often well understood. But, for too many, there are limited tables around which their voices are heard and knowledge embraced. As a global community we're missing the opportunity to learn and change as a result. The climate crisis can be considered as much a human rights crisis rooted in inequality as it is an ecosystem crisis.
The cost of gender inequality is equal to $12trillion in lost global growth[3]. McKinsey Global Institute's report, "The power of parity: How advancing women's equality can add $12 trillion to global growth" found that a "best in region" scenario in which all countries match the rate of improvement of the fastest-improving country in their region could add as much as $12 trillion, or 11 percent, in annual 2025 GDP. In a "full potential" scenario in which women play an identical role in labour markets to that of men, as much as $28 trillion, or 26 percent, could be added to global annual GDP by 2025.
And yet, the recently released World Inequality Report 2022[4] provides sobering estimates of the gender inequality in global earnings. Overall, women's share of total incomes from work (labour income) was near 30 percent in 1990. It stands at less than 35 percent today. In 30 years, not much progress has been made.
In this intersect of climate, human rights, economic empowerment and investment is where another important argument for investing in women and girls lies. A large study of female business leadership, 'When Women Lead, Firms Win', found in the 24 months following their appointments, female CEOs saw a 20 percent increase in stock price momentum. Female CFOs saw a 6 percent increase in profitability and 8 percent larger stock returns[5]. Harvard University also recently found that firms with more C-suite female leadership fundamentally 'thought' differently[6]. Not only were companies more open to change and less willing to accept risk, they also shifted focus from mergers and acquisitions to research and development. Other research also highlights female executives are likely to care less about tradition[7] and are more open to challenging the status quo[8]. Women are also more likely to lead with the environment and sustainability in mind.
A report from the University of Adelaide[9] found that for every women appointed to the board, a business reduced its chances of being sued over environmental violations by 1.5 percent. The University of Hong Kong[10] also found that businesses with female CEOs produced less air and water pollution and greenhouse gas emissions. They also received fewer environmental penalties, compared to firms with male CEOs. Businesses also demonstrated higher awareness of environmental protection, reflected in their 10-K filings, when led by female CEOs.
With all this in mind, it's hard to deny that new leadership is needed to deliver the Paris Climate Agreement and Glasgow Climate Pact. As Albert Einstein is quoted, "We cannot solve the problems of today with the same thinking we used to create them". As part of this leadership, women need to be at the tables where decisions are being made – in their communities, politics, business and critically finance. A gender equal world pays dividends – socially, environmentally and economically. Isn't it time we all worked towards it?
Written for ESG Clarity.
[1] https://www.drawdown.org/solutions/table-of-solutions
2 ibid
[2] https://news.un.org/en/story/2021/11/1105322
[3] https://www.mckinsey.com/featured-insights/employment-and-growth/how-advancing-womens-equality-can-add-12-trillion-to-global-growth
[4] https://wir2022.wid.world/
[5] https://www.nasdaq.com/press-release/sp-global-releases-when-women-lead-firms-win-2019-10-16
[6] https://hbr.org/2021/04/research-adding-women-to-the-c-suite-changes-how-companies-think
[7] https://pubsonline.informs.org/doi/abs/10.1287/mnsc.1110.1452
[8] https://hbr.org/2012/03/a-study-in-leadership-women-do
[9] https://www.sciencedirect.com/science/article/abs/pii/S0929119918301408
[10] https://papers.ssrn.com/sol3/papers.cfm?abstract_id=3359180
Important Information: Tribe Impact Capital LLP is authorised and regulated by the Financial Conduct Authority ("FCA"). Our FCA registration details are set out in the FCA Register under Firm Reference number 756411 (www.fca.org.uk). Tribe Impact Capital LLP is registered in England and Wales (registered number OC411984) and our registered office is 52 Jermyn Street, London SW1Y 6LX. This document does not provide you with enough information to make an informed investment decision. Neither does it constitute advice or a personal recommendation or take into account the particular investment objectives, financial situations or needs of individual clients. If you are not an existing client of Tribe Impact Capital LLP, this document is considered to be marketing material. Whilst this document may contain information about specific companies it is not an investment research report as defined by the FCA. This document is not intended and should not be construed as an offer, solicitation or recommendation to buy or sell any investments. You are recommended to seek advice concerning suitability of any intended investment decision from your investment adviser. Past performance is not a reliable indicator of future performance; and the value of investments, as well as the income from them can go down as well as up. Investors may get back less than the original amount invested. Any type of impact investment will involve risk to investors capital and the expected environmental or social return may not be achieved. The information and opinions expressed herein are based on current public information we believe to be reliable; but we do not represent that they are accurate or complete, and they should not be relied upon as such. Any information herein is given in good faith but is subject to change without notice. No liability is accepted whatsoever by Tribe Impact Capital LLP or its employees and associated companies for any direct or consequential loss arising from this document. This document is not for distribution outside the European Economic Area.