We're delighted to present our second Impact Report, now referred to as our Sustainable Development Goals (SDG) Performance Report.
Since our business started in summer 2016, we have taken our pledge to being transparent seriously. We have committed, mainly through our B Corporation 1 submissions, and our annual UN Principles for Responsible Investing (PRI) returns 2 , to ensure anyone can find out more about what we do and how we do it. We hope our SDG Performance Report provides clarity on what we have managed to achieve and importantly, what's left for us to do.
We're thrilled to report that, alongside our commitment to report to the PRI 3 every year on our assets under management, that between April 2019 and April 2020, we again, more than doubled the assets under management, 100% of which is managed sustainably, for impact. In this time we also attained our three-year track record in November 2019.
This report, like last year's, is designed to be an honest insight into what "the Tribe" has achieved. It is also a mechanism through which we can publicly rededicate ourselves to the tasks in hand. Much of what we talk about in this report, whether qualitatively or quantitatively, references performance against the targets and the metrics that have been established as part of the UN SDGs, and other frameworks, for example the Paris Climate Accord.
PERFORMANCE HIGHLIGHTS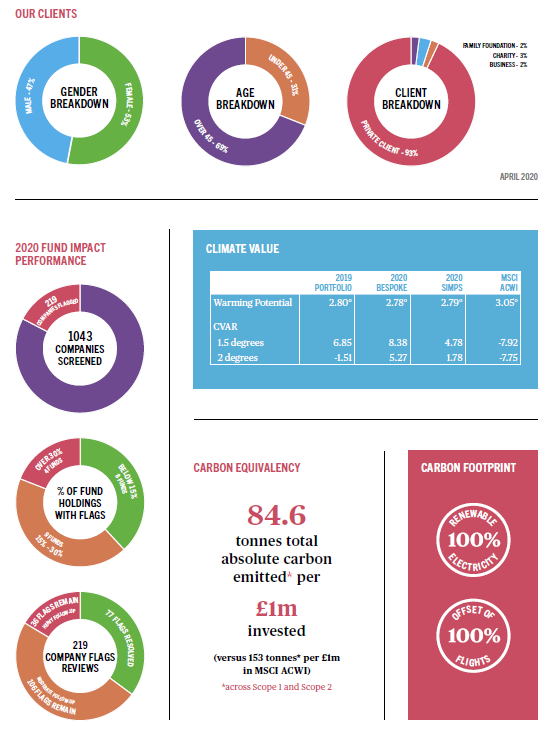 Footnotes
http://reporting.unpri.org/surveys/PRI-reporting-framework-2018/71429629-0780-4736-A76A-D7D2488F2871/79894dbc337a40828d895f9402aa63de/html/2/?lang=en&a=1

Scroll to footnote