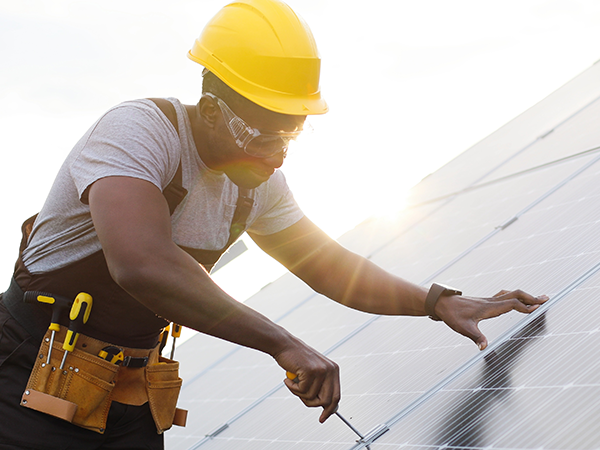 What is the infrastructure bill?
On the 10th of August, the US Senate passed – by 69 votes to 30 – a $1 trillion infrastructure spending bill. This included $550 billion in new spending, as well as $450 billion in previously approved infrastructure investment. The bill is centred around rebuilding the USA's crumbling infrastructure and boosting local economies by harnessing and supporting clean and energy efficient innovations while creating new, higher paying and higher value-added jobs.
Accelerating the transition to a low-carbon economy is central to the Democrat's plan which includes building more renewable energy and electric vehicle charging stations, while also capping oil and gas wells to reduce emissions and reclaiming abandoned coal mines. It must be noted here some recent reports caution the Biden administration may not be moving with as much urgency as is required raising concerns over their commitment to halting new fossil fuel developments.2
Currently, there is the ambition to build over a million new affordable, energy-efficient housing units and to make existing structures more energy efficient.3 Hundreds of billions of dollars are planned to go toward "high-growth industries of the future,"4 such as advanced battery manufacturing. The underlying message is that the next step of America's economic recovery is fundamentally tied to countering the climate crisis.
Many Congressional Democrats clearly see this bill as only a stepping stone and a larger spending plan will be needed to meet all these goals. Indeed, following this successful bi-partisan vote, the Democrats moved to begin to push through a larger (up-to $3.5 trillion dollar) package using a process called "budget reconciliation," which bypasses the chamber's normal rules requiring 60 votes to pass most legislation.
While the passage of this larger bill remains unclear, the effect of this initial spending programme should be far reaching. Most importantly, it has underlined the growing imperative of climate policy in political circles and brought it into mainstream attention. Furthermore, outside of the climate space, upgrades to roads, bridges and broadband connectivity could have a hugely beneficial effect on the everyday lives of Americans.
What are the implications for investors?
What we saw in 2020 was a huge rally in the renewables sector on just the prospect of Biden getting into office. Since then, there has been a pullback from those highs over the course of 2021 and we are starting to see again a few more attractively priced opportunities in this space. We expect to see increased investor activity in clean energy investments as the infrastructure deal is finalised and COP 26 in November gets underway.
These events play into the long term investment philosophy at Tribe which looks for solutions to the world's biggest problems. One theme in particular, we believe, will continue to perform well is building efficiency. Inefficient buildings account for almost 30% of all US carbon emissions, and many low-income communities suffer from the impacts of substandard housing5. Furthermore, building improvements could improve the lives of Americans struggling with high energy bills, and poor housing conditions6. Similarly, the US water system is famously underfunded7 and we expect to see renewed focus on those companies involved in providing clean water to industries and consumers. We would also expect to see more diversification within the clean tech space in areas like battery storage and smart metering, but there are many other opportunities as more traditional companies begin transitioning their business models with their carbon footprints in mind.
As investor appetite increases it also highlights the need for portfolio managers to remain innovative and active as more and more capital starts chasing fewer opportunities and concentration and volatility start to increase.
Important Information: Tribe Impact Capital LLP is authorised and regulated by the Financial Conduct Authority ("FCA"). Our FCA registration details are set out in the FCA Register under Firm Reference number 756411 (www.fca.org.uk). Tribe Impact Capital LLP is registered in England and Wales (registered number OC411984) and our registered office is 73 Cornhill, London EC3V 3QQ. This document does not provide you with enough information to make an informed investment decision. Neither does it constitute advice or a personal recommendation or take into account the particular investment objectives, financial situations or needs of individual clients. If you are not an existing client of Tribe Impact Capital LLP, this document is considered to be marketing material. Whilst this document may contain information about specific companies it is not an investment research report as defined by the FCA. This document is not intended and should not be construed as an offer, solicitation or recommendation to buy or sell any investments. You are recommended to seek advice concerning suitability of any intended investment decision from your investment adviser. Past performance is not a reliable indicator of future performance; and the value of investments, as well as the income from them can go down as well as up. Investors may get back less than the original amount invested. Any type of impact investment will involve risk to investors capital and the expected environmental or social return may not be achieved. The information and opinions expressed herein are based on current public information we believe to be reliable; but we do not represent that they are accurate or complete, and they should not be relied upon as such. Any information herein is given in good faith but is subject to change without notice. No liability is accepted whatsoever by Tribe Impact Capital LLP or its employees and associated companies for any direct or consequential loss arising from this document. This document is not for distribution outside the European Economic Area.