People care about investing in a way that's good for the environment and society, but economic and political issues are making it harder.
The significant upfront investment required in areas like the energy transition and circular economy only feels steeper amidst a cost-of-living crisis and higher interest rates. As a result, people are investing less in sustainable and responsible options, which is a clear reversal of the trends we saw during the global pandemic.[1]
However, all is not lost. We believe investing in
Renewable energy
Energy production technology that relies on unlimited natural sources, such as wind and solar.

presents an opportunity as the case for a low-carbon economy continues to build. Cleaner technologies have retained their relative cost advantage[2], and policy developments are on a positive trajectory. While we have seen a worrying politicisation of the sustainability agenda[3], which may continue to impact sentiment and valuations, the longer-term thesis remains strong.
Policy support and the long-term thesis
Simply put, the war in Ukraine made Europe realise that they need to find new ways to produce energy. The EU has a plan, called RePowerEU, to switch to renewable energy and reduce the use of gas. Since launching in May 2022, RePowerEU has been further strengthened by the Fit for 55 package, the EU's target of reducing net
Greenhouse gas
The six main greenhouse gases covered by the Kyoto Protocol: Carbon dioxide (CO2); Methane (CH4); Nitrous oxide (N2O); Hydrofluorocarbons (HFCs); Perfluorocarbons (PFCs); and Sulphur hexafluoride (SF6)

emissions by at least 55% by 2030.[4]

Additionally, in the United States, the Inflation Reduction Act (IRA) has a $369bn commitment to decarbonise the US economy. It could potentially halve emissions by 2034.[5] Both the IRA and RePowerEU are trying to make our environment cleaner and safer while dramatically reassessing energy security worldwide.
Renewable energy maintains a relative cost advantage
For the day-to-day consumer, we see no sign that the volatility of oil prices will ease. This is especially driven by the increasingly assertive behaviour of the Organization of Petroleum Exporting Countries (OPEC), which controls the price.[6] The availability of fossil fuel energy is also threatened by exclusive two-way deals between the oil-producing members, like Iran and Asian buyers.[7]
New renewable energy generation has a relative cost advantage over fossil equivalents despite the impact global inflationary forces have had on the industry's ability to deliver new investments. The wind industry serves as a case in point: Increased labour and freight costs, supply chain blockages and increased cost of capital have inflated the cost of wind turbines by some 40%.[8] This has challenged the delivery of new wind installations and generated several negative headlines about unsuccessful offshore wind auctions. However, governments are still compelled to invest in wind energy in order to decarbonise their power generation and have a more reliable, locally generated supply.
The UK held an auction to buy offshore wind power, but failed to recieve any bids which could be a turning point.[9] Prior to the UK auction, which closed off in September, the US and Germany saw similar scenarios of weak demand, which led to price guarantees being adjusted upwards. The UK has decided to follow suit. With some minor adjustments to the pricing, developers should still be able to make their required returns and the UK government can help deliver an extra 36 gigawatts (GW) of installed offshore wind capacity, helping hit its 2030 target of 50GW.[10]
The politicisation of ESG investing
In the last 12 months, corporates in the sustainable and responsible investment universe have contended with the growing ideological backlash against investing in companies that prioritise environmental, social, and governance factors (ESG).[11]
Opponents of incorporating ESG investing believe it is part of a radical left campaign to impose a value-destructive climate agenda.[12] This divide has already had a tangible impact. Some pension plans in the south of the US have issued notices to their money managers asking them to de-emphasise ESG in their investment methodology.[13]
As the US election cycle approaches, there is some uncertainty about whether the country will continue its commitments to decarbonisation. However, we remain optimistic that it will.
A recent survey conducted by the Financial Times found that more than 80% of investments in clean energy and semiconductor manufacturing were going to districts that vote for the Republican Party.[14] Despite the fact that not one Republican voted for the IRA in the House or the Senate, a majority of Republicans still believe that the Federal Government should support the production of wind and solar. While there is a divide between political parties on how to address climate change and the role of fossil fuels in the US, there is still broad bi-partisan support for certain green investments.[15] A Pew Centre survey from 2022 found that a majority of Republicans (54%) believe that the Federal Government should support the production of wind and solar (see below chart).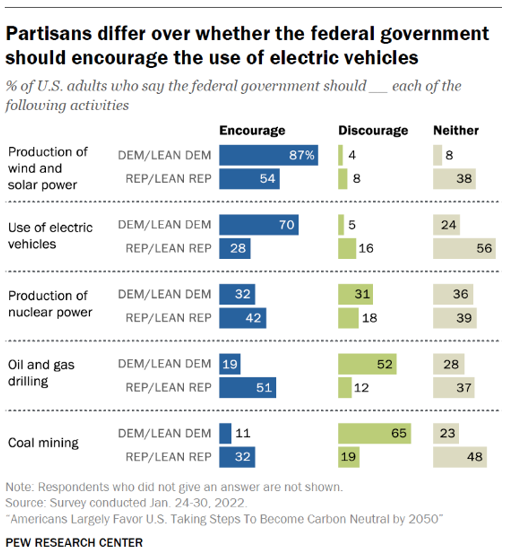 Many of Tribe's core sectors, such as the energy transition, are facing multiple challenges. Higher interest rates and the politicisation of their goals have contributed to a fall in certain company valuations. However, we believe this presents a potential opportunity for investors. In many cases, the longer-term thesis remains strong, given the ongoing urgency to tackle the social and economic disruption climate change is likely to bring. Moreover, the clear strategic advantage of having locally generated clean energy further strengthens this case.
---
[1] Investment Week, Calastone: ESG funds suffer record £953m outflows in August
[2] Lazard, Onshore Wind and Solar have the lowest Levelized Cost of Electricity (LCOE), page 5
[3] Harvard, The Politicization of ESG Investing
[4] European Council, Fit for 55
[5] Scientific American, Climate Law Will Slash Emissions – Maybe Halving Them by 2035
[6] Reuters, Analysis: Saudi crown prince acts to realign Mideast dynamic amid concern over US support
[7] The National UK, India has started buying UAE oil with rupees – here's what it means
[8] Vattenfall, First six months 2023: A positive development for the customer business and challenges in offshore wind power
[9] Reve, Poorly designed UK CFD auction fails to attract any offshore wind investors
[10] HM Government, Offshore Wind Net Zero Investment Roadmap
[11] Harvard Business Review, Rescuing ESG from the Culture Wars
[12] ABC News, What is ESG investing and why are some Republicans criticizing it?
[13] Forbes, Is the ESG Colossus Stumbling?
[14] The Financial Times, Republican districts dominate US clean technology investment boom